Programmable logic controllers from Siemens — for tailor-made performance
Are you looking for programmable logic controllers that offer a cost-effective and flexible automation system? Siemens programmable logic controllers are just right for every application. Our SIMATIC programmable logic controllers have consistently proven their worth in mechanical engineering, production and process technology — and have set standards in engineering, communication and diagnostics.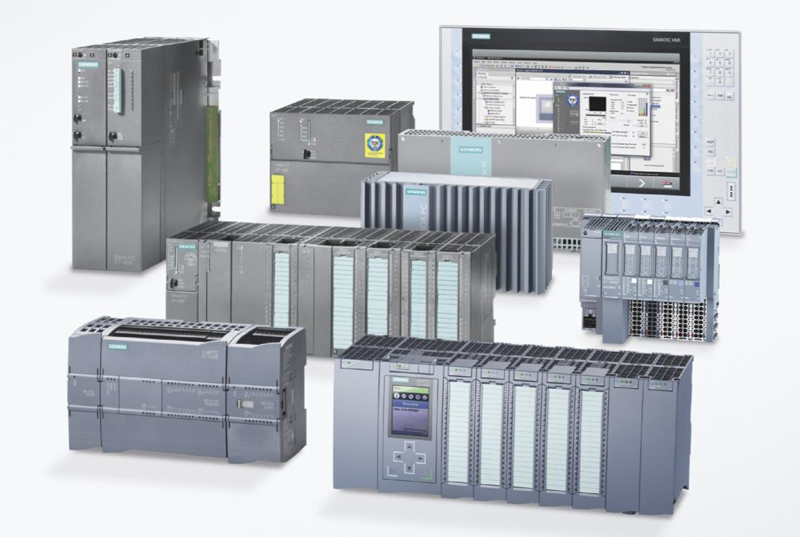 The new modular SIMATIC S7-1200 controller is at the core of our new offering for simple but highly precise automation tasks. The SIMATIC S7-1200 controller is modular and compact, versatile, a secure investment, and is powerfully fit for a full range of applications.
The SIMATIC S7-1500 controller family with the high-end CPU 1518 is the new generation of controllers in the TIA Portal and marks a milestone in automation. It ensures highest efficiency and maximum usability for medium and high-end applications in machine and system automation:
The SIMATIC S7-200 Micro PLC is in a class by itself.
Exceptionally compact yet remarkably capable – especially with respect to its real-time performance – it is fast, features great communication options, and comes with easy to operate hardware and software.
The product range comprises 7 standard CPUs.
7 compact CPUs, 5 fail-safe CPUs and 3 technology CPUs.
The CPUs are available from a width of only 40 mm
SIMATIC S7-300 is within Totally Integrated Automation the most sold Controller.In the first instance SIMATIC S7-300 is used for innovative system solutions in manufacturing technology, especially for automobile industry, mechanical engineering in general and especially for special machine building and serial production of machines (OEM), at plastics processing, packaging industry, food and beverage industry and process engineering
There is a graded range of CPUs from the entry-level CPU right up to the high-performance CPU for configuring the controller. All CPUs control large quantity structures; several CPUs can work together in a multicomputing configuration to boost performance. Thanks to their high processing speed and deterministic response times, the CPUs enable short machine cycle times.
The different CPUs are distinguished by, for example, work memory, address range, number of connections and execution time. As well as the standard CPUs, there are also two failsafe and three fault-tolerant CPUs available
New standards in process control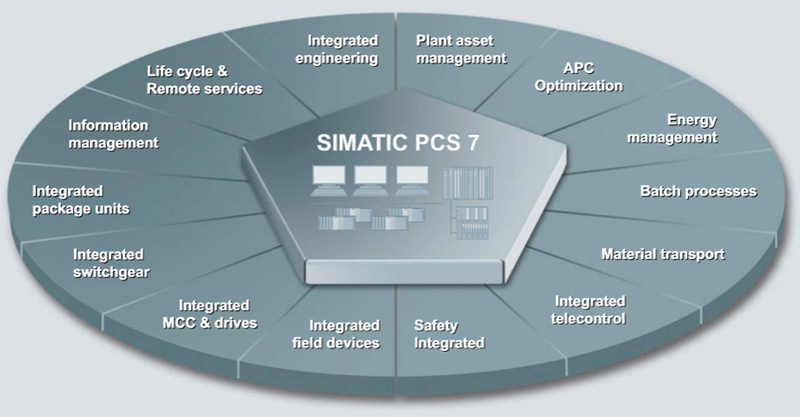 Top performance, unique, scalable architecture and outstanding system characteristics: Siemens' SIMATIC PCS 7 process control system is convincing whichever way you look at it. Flexible modular redundancy and end-to-end data storage, communication and configuration enable cost-effective realization and economical operation of control systems.

Much more than a traditional distributed control system (DCS): SIMATIC PCS 7 combines a unique scalable architecture with powerful engineering tools and a wide variety of additional functions such as alarm management, process safety and asset management, all of which can be integrated seamlessly into your existing environment. SIMATIC PCS 7 has everything you need to completely and safely automate your entire production process, from goods receipt to goods issue, in both manufacturing and process plants.
Siemens Sensor Systems: maximum precision and reliability
In every industrial application, field-level sensors must fulfill increasingly high requirements regarding precision and reliability. Sensor systems from Siemens, one of the world leaders in sensor systems for the broadest range of industrial applications, are capable of fulfilling such high functional requirements.
Pressure Measurement
Temperature Measurement
Flow Measurement
Level Measurement
Positioners
Process Protection
Process Controllers
Process Recorders