Integrated solutions for electrical power distribution
Our portfolio comprises switch boards, busbar trunking systems, distribution boards, measuring devices, circuit breakers and switch disconnectors, circuit protection, building management systems, switches and socket outlets. Around the world, the consistency, modularity and intelligence of our components and systems offer you numerous advantages – over the entire period of use. Developed according to the respective international standards, we offer trendsetting design and innovative functions in unique quality.
Totally Integrated Power
Everything for power distribution
Consistent end-to-end solutions are needed for electric power distribution in buildings. Our answer is Totally Integrated PowerTM (TIP). TIP stands for innovative products, systems and software tools which ensure the safe and reliable distribution of electric power. They are supplemented by  communication- capable software modules which connect the power distribution system to the building automation system or industrial automation solutions.These in turn can be linked to a comprehensive energy management system which contributes to optimizing the consumption of electricity and hence to lowering operating costs.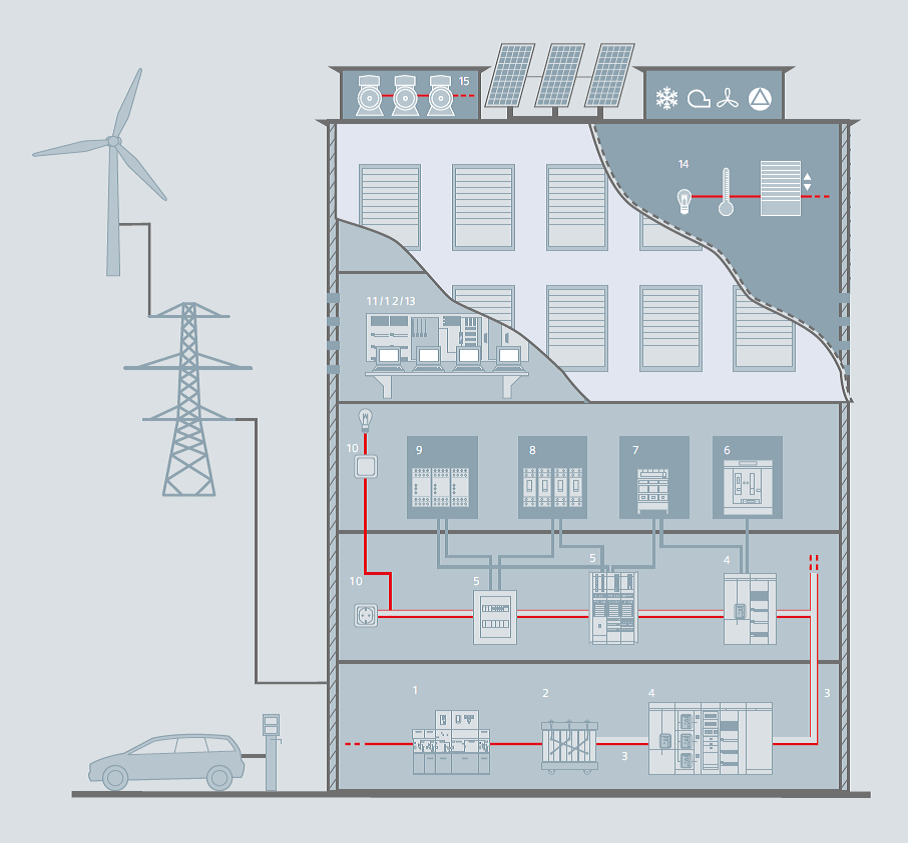 Energy Management
Knowing when and where how much energy is consumed – reduced costs through optimized energy use.
Consistently well informed
A sustainable reduction of power costs first requires an analysis of the electrical system's current consumption and power flows. All you need is provided by our power monitoring devices, E-counters and communication-capable circuit breakers. They precisely and reliably detect the power values for electric feeders or individual consumers. In addition, the power monitoring devices SENTRON PAC provide you with important measured values for assessing the system state and the power quality. For further processing of the measured data the devices come with manifold communication options for smoother integration in higher-level automation and energy management systems.
Reliable through communication
Technical plants must run economically. This means continuously optimizing their capacity utilization and avoiding downtimes. Against this background the data from measuring devices and communication-capable switching and protection devices are being analyzed and documented to an increasing extent. From load profile curves and trend analyses to the visualization of switching states: Our measuring devices and software provide you with the information you need.
SIVACON Switchboards and Busbar Trunking Systems
A reliable low-voltage power distribution – the basis for safety and cost-effectiveness.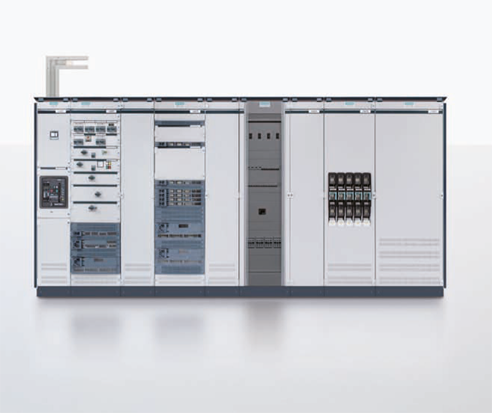 Safety in its most attractive form
Maximum safety and attractive design are offered by the innovative SIVACON® S8 generation of switchboards for the efficient distribution of power in industrial and nonresidential buildings. Diverse product features for improving personal and plant safety together with the attractive cabinet design open up many different fields of application.
Optimum power flow
Busbar trunking systems SIVACON 8PS ensure the safe and cost-efficient flow of power in all kinds of applications. Altogether, six different systems offer everything for optimum power transportation and distribution: from simple planning, fast installation, safe operation to flexible modification and expandability.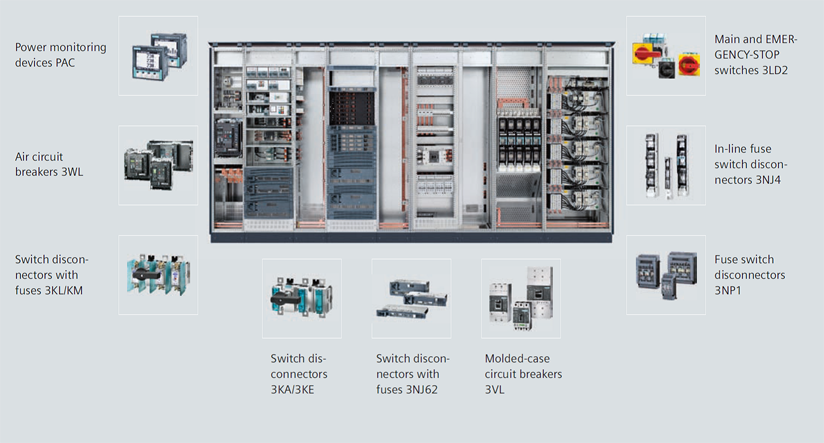 ALPHA Distribution Boards
One range for all applications – uniform design, easy handling and high quality.
The system idea counts
Whether you need small, wall-mounted or floor-mounted distribution boards – with our ALPHA distribution system you are sure of getting a well thought-out system which is fully compatible in technology and design. All ALPHA distribution boards offer highly reliable quality and safety meeting the regional standards. ALPHA SELECT configuration software makes planning easier and therefore reduces costs.
Flexible for every need
ALPHA distribution boards offer you a comprehensiverange of wall-mounted and floor-mounted distribution boards for currents from 125 A to 1,250 A. ALPHA SIMBOX small distribution boards are used peripherally as sub-distribution boards. They are particularly notable for their uniform design and functionality.
Functional in every environment
The ALPHA 8HP molded-plastic distribution system is a specially designed modular system which shows its strengths in harsh and aggressive environments. Therefore, it is particularly suitable for applications in industry and infrastructure.
Always the right connection method
ALPHA FIX terminal blocks satisfy all expectations when it comes to easy and clearly arranged wiring. They are available for all standard connection methods.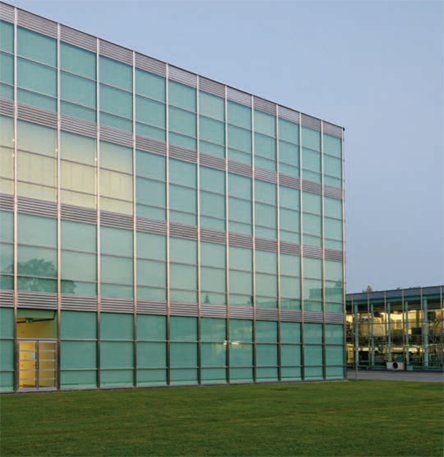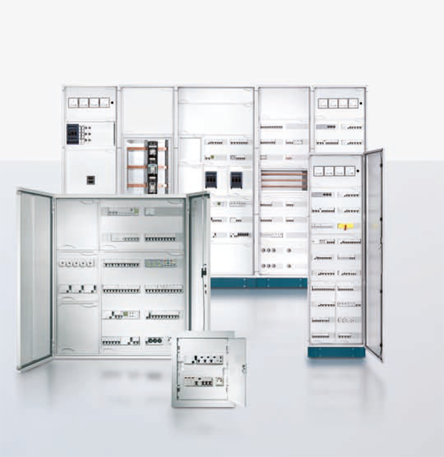 SENTRON Circuit Breakers and Switch Disconnectors
For many different applications from 16 A to 6,300 A – communication capability means there are no bounds to practical solutions for optimum power distribution.
For boundless use
Whether it's our air circuit breakers SENTRON® 3WL, molded-case circuit breakers SENTRON 3VL or the new innovative fuse switch disconnectors SENTRON 3NP1, well-proven switch disconnectors and in-line switch disconnectors with and without fuse – we have everything you need for cost-efficient, safe and reliable switching and protecting. With their consistent modular design and extensive range of accessories, SENTRON products meet today's demands for versatility and flexibility.
Full communication capability
Today, circuit breakers and switch disconnectors are more than just switching and protection devices. Using standardized bus systems, they can send important data for diagnostics, trouble-shooting, maintenance, power and cost center management to a central control room. Function block libraries enable easy integration in process control systems in order to monitor your power distribution and collect maintenance data. Intelligent switching devices thus make a major contribution to the realization of stringent communication solutions and open up new perspectives in the implementation of cost-efficient power distribution systems with a high level of availability.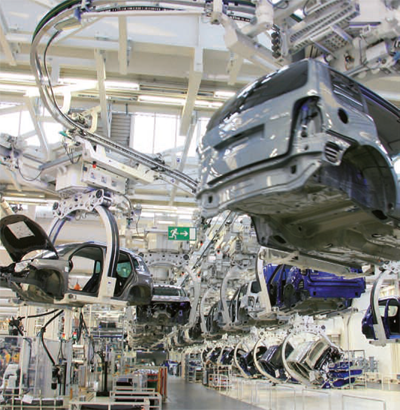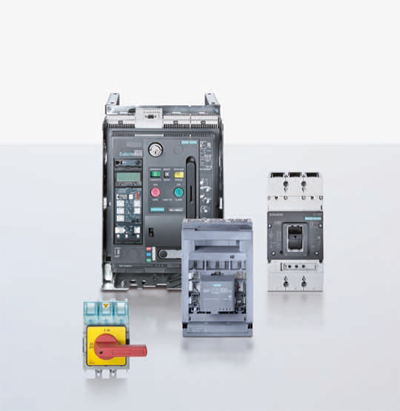 BETA Low-Voltage Circuit Protection
Whether protecting, switching, measuring or monitoring – the comprehensive protection concept for all applications has the entire circuit under control.
Always on the safe side
We offer a protection concept with a coordinated range of devices: for line, personell and fire protection, lightning and overvoltage protection, as well as device and plant protection. Switching, measuring and monitoring devices round out the lowvoltage circuit protection range. Our products comply with IEC/EN and UL standards, therefore they can be used world-wide.
Safe and cost-efficient
With comprehensive circuit protection you improve plant availability, reduce maintenance work and considerably cut your operating costs. The result is a maximum of flexibility, convenience and safety for electrical installations in industrial applications, as well as infrastructure and buildings.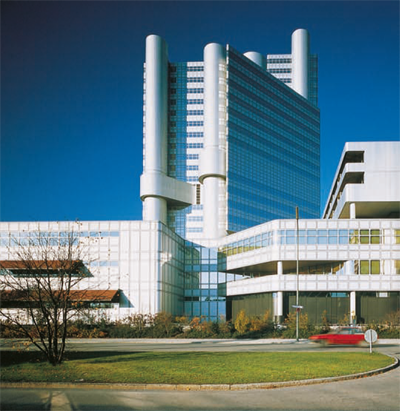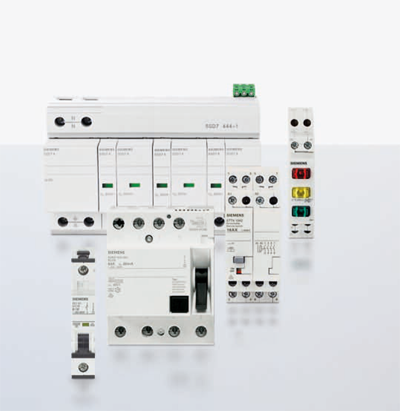 GAMMA Building Management Systems
Expertise for every construction project – raising the level of safety and comfort while maximizing cost-efficiency.
Diversity of applications in buildings
A building has to fulfill many different requirements. It must be architecturally attractive, functional, flexible in use and economical in operation. At the same time there are individual user peferences to be met with regard to lighting, sun protection and room climate, with solutions that are both comfortable and energy-saving. People and assets have to be protected against hazards and damage. Today, all these requirements can be met with the well-proven building management systems GAMMA instabus.
Future-proof solutions custom-made
Whether you want to realize highly complex, multi-utility systems or are looking for small solutions – this technology can be adapted to your individual needs. With GAMMA instabus you will gain a great deal in terms of cost-efficiency, flexibility, comfort and market value. Choose GAMMA instabus today for a safe investment tomorrow. In our building management systems we integrate technologies such as Ethernet/IP, lighting with DALI, process automation and autonomous controllers. Furthermore, we lay the basis for optimum communication with a host of transmission options such as KNXnet/IP, twisted pair, infrared or wireless. As the market leader for these interfaces and transmission technologies we are always the right partner for your project.
World-wide standard
With the trend-setting building management systems GAMMA instabus you are on the safe side. It is based on the worldwide standard KNX according to ISO/IEC 14543, which is used by more than 150 manufacturers in compatible products.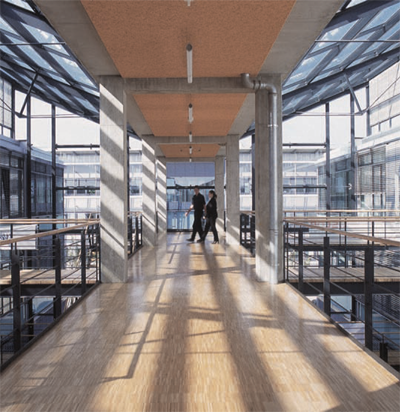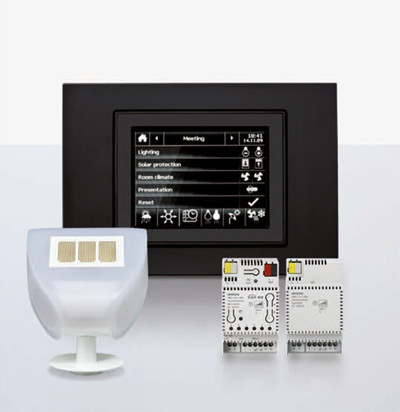 DELTA Switches and Socket Outlets
Design to perfection – versatile switch ranges for every requirement.
Diversity of design and function
Whether classical design or exclusivity, a flexible system or a high-grade material – our DELTA ranges are as varied as tastes themselves, and as international as our customers. You have a choice of  numerous switch ranges made of different materials and with countless combination options. The switches are functional and easy to install. Besides switches our offering includes also other user-friendly solutions for making your life safer, more agreeable and comfortable. For example: dimmers, motion detectors, smoke detectors, central blind/shutter controls, and remote control systems. Most ranges are suitable for GAMMA instabus – the building management systems for more safety and convenience in buildings.
Environmentally friendly products
Another positive aspect of the DELTA ranges is the use of environmentally friendly materials. For example, the device inserts contain no cadmium or nickel, and the socket outlets and design elements no PVC or halogens. Our products are developed and manufactured in accordance with the most stringent environmental standards.
International product portfolio
We offer a comprehensive range of products: switches and socket outlets in modular and monobloc technology for Asia and South America, for Europe in VDE technology and according to British standard.